Jan 13 2006
I've been working on my 2nd painting for a while and finished it last weekend. I actually started it once but, due to some unfortunate events, that first version turned out badly. So, I started it again on a fresh canvas and am, overall, pleased with the result. I had a fairly clear idea of what elements I wanted, but creating them was a real process of discovery for me.
The circles were created in Adobe Illustrator, then printed and cut out and used as 'masks' for the metalic 'burst' around them. The circles' diameters are scaled according to the golden ratio, but their placement was somewhat arbitrary. I didn't have a clear intent or meaning in mind when creating the painting, but did know what elements I wanted, and a somewhat clear vision of how they'd all fit together. I feel that I came fairly close to this.
After finishing the painting, it became clear to me that it, in some way, represented ideas that a friend of mine and I had been discussing for quite some time: Ideas of the nature of existance, free will, Kaballah, faith, etc. I did not have these thoughts in mind when I created the painting, however.
I gave the painting to Richard Berger, my friend and co-creator of LBC, a few days ago but didn't have a name for it until this morning: Bitul Hayesh.
Bitul hayesh ("nullification of [one's] somethingness") constitutes a lower form of bitul whereby one is consciously involved in the process of nullifying the outer layer of self (ego). This is accomplished by the concentrated effort to experience the continual recreation of all reality, including oneself, as "something from nothing." This impresses upon one's consciousness that there is no independent reality attached to one's sense of "somethingness."
Anyway, here is a thumbnail that, hopefully, will act as a link to a larger version: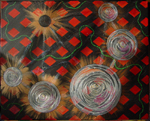 5 Responses to "New Painting"
Leave a Reply