Oct 23 2007
Ever since, or perhaps even before, I completed the guitar project I'd dreamed of creating a custom bass. Encouraged by the results of the Sandblaster, I decided to undertake a 2nd instrument-building project: A bass.
I originally hoped to create an instrument using similar African Mahogany but, much to my dismay, large pieces of highly figured African Mahogany are becoming harder and harder to find. Old growth trees are now almost entirely gone, sadly.
Anyway, I began to expand my search to include other woods, and even several woods in combination. ( I just had this idea that one solid piece is somehow better… I don't know if that's true, though.) Anyway, I have a Taylor acoustic guitar with Sapele sides and back. Sapele is similar to African Mahogany, but it is heavier, darker, and more expensive. Also, like most popular woods, large highly figured pieces are hard to find. So, after many weeks of patience, John of West Penn Hardwoods selected some pieces that, ultimately, will end up as the body of my next bass.
There are three 'sections': The top, which is made of book-matched sapele, the middle, which is made of flame maple (soft), and
The book-matched top: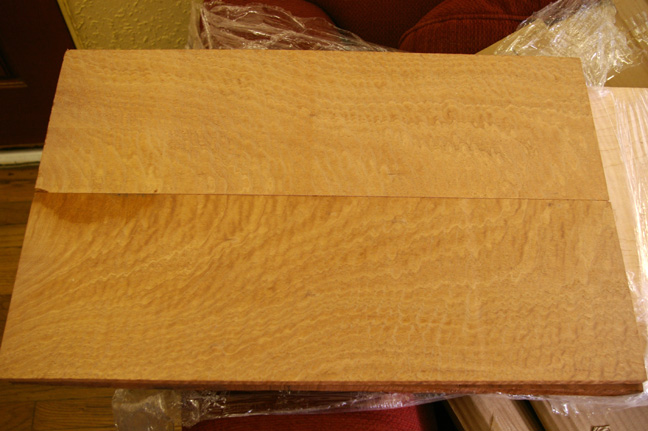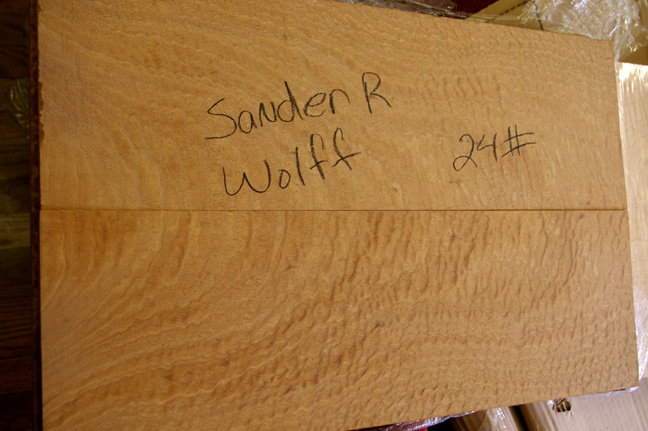 The highly figured soft maple: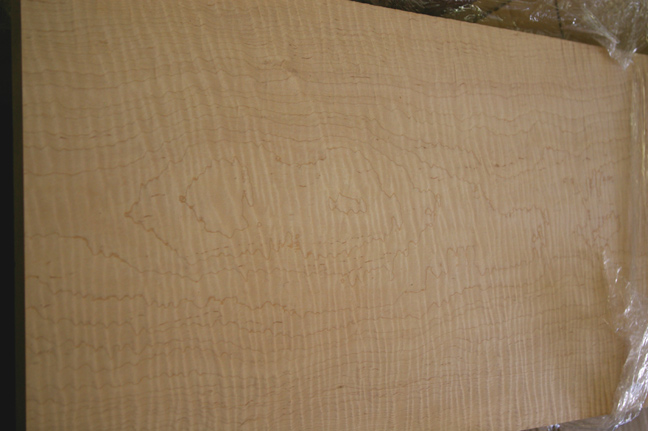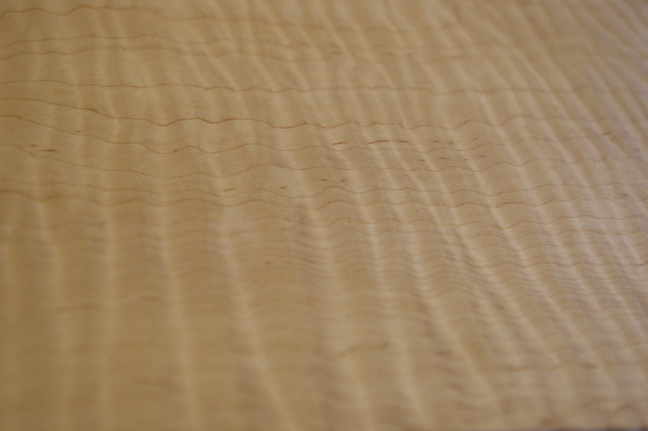 The solid Sapele back piece: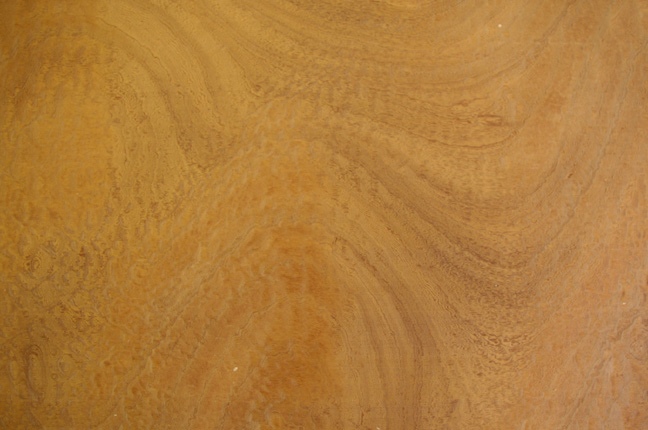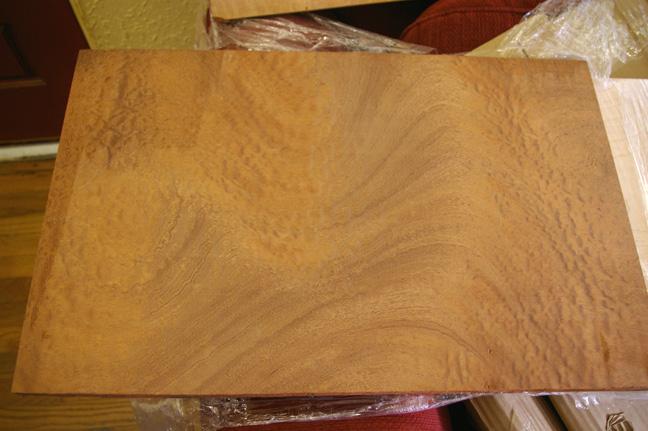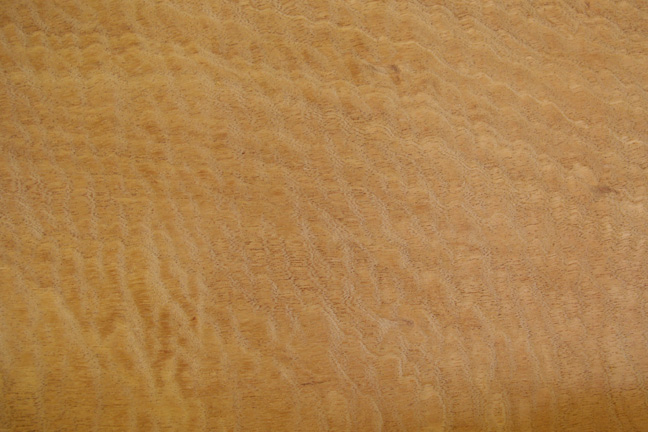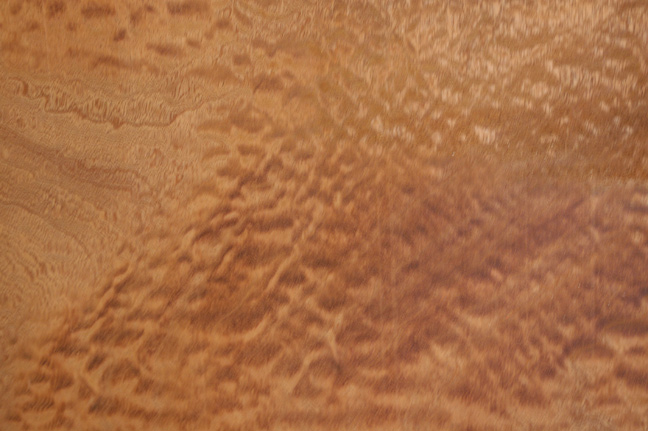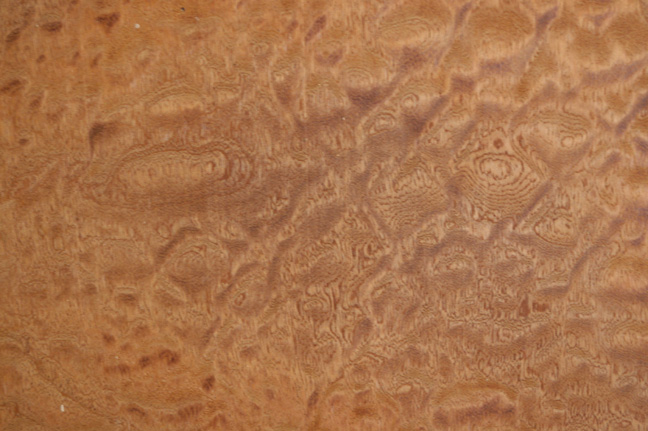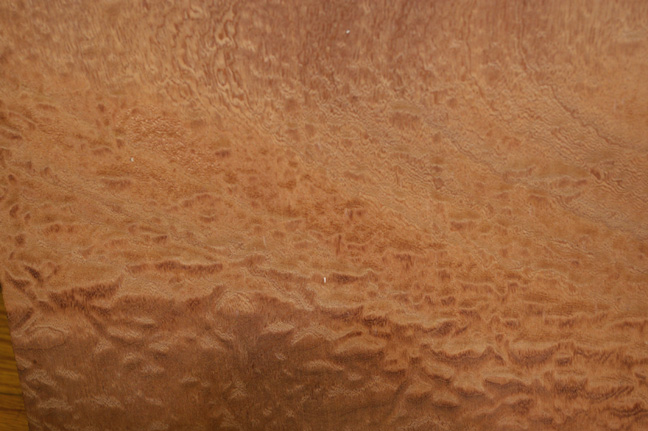 3 Responses to "Creating a bass – Step one: buy wood"
did you choose?
These are really beautiful. I just love the texture of wood. You need to keep me posted on this project. Where is this place your getting the wood.?
How big are these pieces.
love ya
Margie

#

Greg Michaelz

on 26 Feb 2008 at 6:09 am

Nice grain capture! I know it is difficult to make that grain "dance", as you did in these shots…

Nice Work!

-greg.

#

Greg Michaelz

on 26 Feb 2008 at 6:31 am

Also- I know you have figured this out, but a multi-type wood guitar or bass has the ability to capture many nuances that might prove unattainable otherwise.

The guitar that I am designing has a flame/curly maple top, over a chambered mahogany body (traditional Les Paul set-up). I am then attaching a Birdseye maple neck, which will run the entire body length (sustain and tone), and capped with a nice piece of Ebony. I will be using a 25″ scale length, for maximum snap, and easier string bending, while tuned to pitch.

Grover Rotomatics (my favorite) with an 18:1 ratio will keep it in tune, and I haven't decided on a trem system yet, but I like the Wilkinson, due to its higher mass.

Only Seymour's go in my guitars, so I think I will be using a Pearly Gates in the neck position, and a JB in the lead spot. I might use a '59 in the middle, if I go with a 3-pickup configuration.

I will be using 3 toggle switches to control the pickup selection, with push-push pots on all four volume/tone controls. These will be used for phasing purposes, in a modded Jimmy Page set-up.

The guitar will be rear-loaded, and stained a teal blue burst. Gold hardware will be used throughout, and I might incorporate an acoustic pickup, with a stereo output to facilitate connection to the appropriate amp.

The body shape is not finalize yet, but I am thinking about a shape based on the Ovation Deacon/Breadwinner solid bodies of the '70's.

The neck inlays will look like nipples (non-pierced).

It's just in the planning stages…

Feel free to submit nipple-shots to me. Not YOU, Sander… women, only!! 🙂

-greg michaelz.
Leave a Reply